Not My Peace But Yours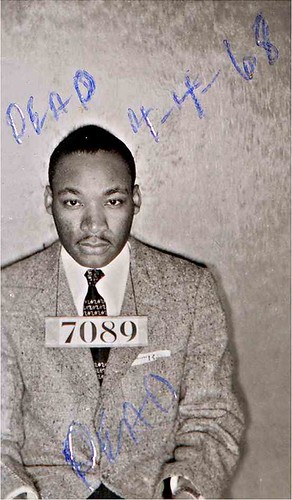 A friend of mine in another town said that she was thinking about me and the congregation that I pastor and got some impressions that she wanted to share with me. She hadn't read my blog, if ever she has, so I found it interestingly related. She said that for some reason Martin Luther King Jr. kept coming to her mind and that it related somehow to our church. I've been thinking about him lately, for years actually, and have felt that our community will embody to a greater degree the kind of good news that King spoke and embodied. She sent me this quote of King's:
And God wants that we get on board and start marching with God because we got orders now to break down the bondage and the walls imperialisms, colonization, and exploitation. Break them down to the point that no man will trample over another man, but that all men will respect the dignity and the worth of all human personality and then we will be in Canaan s freedom land.
And I'm thinking to myself as I read this that this is exactly what we are trying to head towards. I need to be honest with you: in my opinion religion can be the worst enemy of the human being. That's been my observation and experience. So to encourage a religious community to walk towards this kind of liberation of the self and of others is an extraordinary task. You see, religious communities seem to be most concerned about themselves, their own comfort and the preservation of their kind of religion. This will no longer do. We have to make the respect and dignity of all people our concern. All people, regardless of race, religion, gender, sexual orientation, or what have you. I think the pic I chose is powerful because it is a police mug shot of a man who fought non-violently for the liberation of all people. Didn't Paul write his greatest letters while in prison? Is it possible, people, while still bound with our bondages, our oppressions, our restrictions, our limitations, our weaknesses, to still bring peace to others and the world?
---