How to Mix Art Styles on Your Home Gallery Wall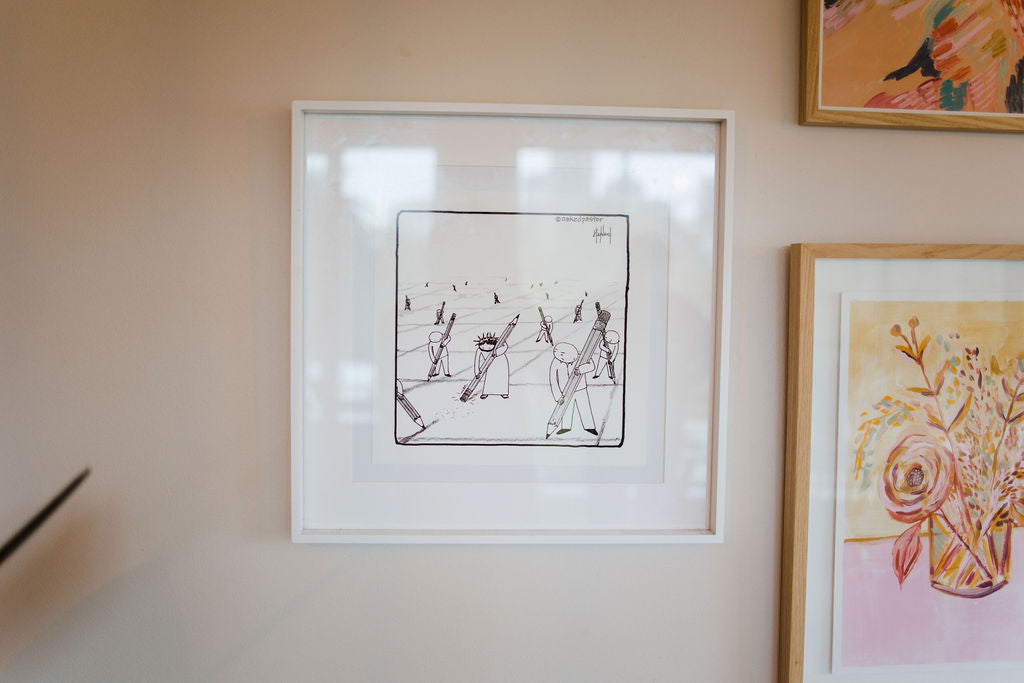 Deciding how to hang art and which art to hang in your home can be tricky – especially if you like lots of different art styles.
I've spoken about this before, but deconstruction often means inconsistency and constant change. My tastes are always changing too. Some days I like a particular painting, others I gravitate towards a cartoon.
That's why I decided to create a gallery wall that mixes art styles. Here's how.
What is a Gallery Wall?
A gallery wall is a wall where you hang lots of artwork together. It adds a coziness to an otherwise empty space while bringing in your personality. The more minimalist gallery walls contain neat lines of matching artworks – often in the same frame.
However, the more exciting gallery walls feature a mixture of paintings, cartoons, doodles from children, and the odd photograph all in different frames, sizes, and heights. This is the type of gallery wall I like to look at and the type of gallery wall that shows the most personality.
How to Mix Art Styles on Your Gallery Wall
Adding new art shouldn't mean taking away old art. Hanging a painting you bought 20 years ago alongside your favorite NakedPastor cartoon can (and does!) look great. But if you're nervous about mixing and matching, here are a few tips:
Pick a consistent accent color. I don't mean that every picture needs to be bright orange, for example, I just mean that it's nice if there's a pop of your accent color in at least half of the pictures.
Break it up with black and white. Adding a black-and-white cartoon is a nice way to break up artworks and paintings that don't quite match.
Pick a theme or motif. Something important to you. Can be an interesting talking point when guests visit.
Use consistent colored frames. Different ones are great but if you're looking for something to tie it together this can help.
Add in other hanging objects such as a clock or a mirror. Breaks up the artwork and allows for more freedom.
I recently got a video from a fan hanging my Overturning cartoon alongside a painting she got at a market. The mixing of styles makes her gallery wall look fresh and fun. See how that turned out.
Final Thoughts
When it comes to creating a gallery wall that mixes art styles, the trick is to choose art that you like and that makes you feel seen, loved, and accepted. It's your home so if you like how it looks, it's perfect.
Need help deciding which art to hang? Read my list of the 5 Best NakedPastor Artworks for Decorating Your Home.